Want to travel light? Do not bring "ultralight" carry-on bags that are too heavy! We've compiled a list of the top 7 lightweight bags to save you money on overweight baggage fees. The best thing, though? They are all under 5 pounds!
There are plenty of options available if you're looking to purchase lightweight carry-on luggage. These bags also have a tonne of fascinating features that affect packing, transportation, and protection. You can purchase heavy-duty hardware, integrated charging devices, and wheel locking systems. However, it's crucial to be conscious of airline regulations when choosing your next carry-on; size and weight are essential factors. Many individuals opt for cabin luggage that weighs less than 5 pounds in order to avoid additional airline fees.
Furthermore, visit Budgetairfare, if you are on the lookout for the cheapest international flight deals.
When you need to pack a variety of outfits (including matching shoes and accessories), your complete skin care regimen, exercise equipment, and essentials for working remotely, lightweight luggage can help you balance your load. But with so many choices, we often get confused about which one is the best. Thus, in order to help you narrow down your choices, we have compiled a list of the top 7 best ultra-lightweight carry-on bags under 5 pounds. So, read on.
Best Ultra Lightweight Carry-On Bags Under 5 Pounds
In this section of the blog, we've rounded up the top 7 lightweight carry-on bags that weigh in under the 5-pound mark. Also, these duffels, under-seat bags, weekenders, and suitcases aren't only light. In addition, they have a number of compartments, and notable features like expanders, compression panels, laptop sleeves, TSA-approved locks, and USB charging connections. They are also strong, portable, and roomy. So, get ready to shop!
1. Travelpro Maxlite 5 Lightweight Rollaboard Luggage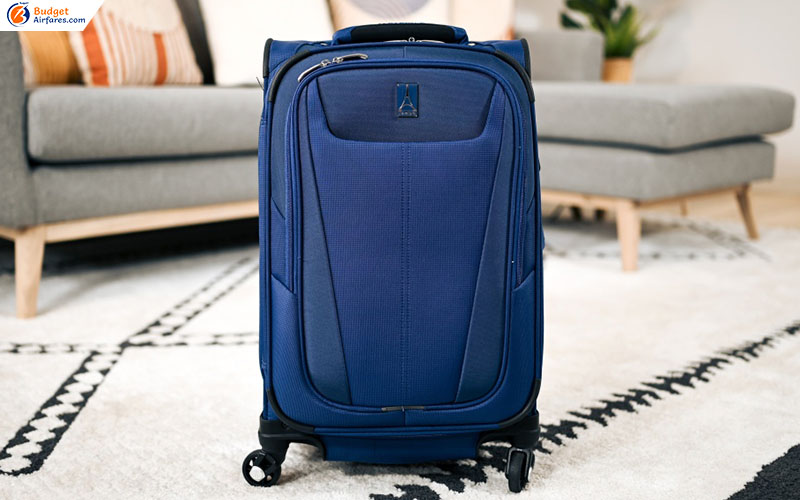 Overall Dimensions: 23 x 14.5 x 9 inches
Weight: 5.4 pounds
This incredibly light luggage is big enough to hold everything you'll need for your upcoming journey while still being compact enough to utilize as a carry-on. You may pack as much as you can and still keep your possessions close to you in the airplane thanks to sides that can expand up to 2 inches. This rolling bag has H20 Guard and is made of premium nylon. The high-performance ball-bearing wheels glide effortlessly across any surface, and the PowerScope Lite grip makes it simple to manage the case while you walk with it. Thus, get ready to test the high performance of Travelpro Maxlite 5 Lightweight Rollaboard Luggage by flying internationally with Budgetairfare.
2. DELSEY Paris Luggage Chatelet
Weights just 4.3 lbs
Hard Case, TSA Lock, Four Wheels, Additional Handles
Aesthetically Pleasing
This hand luggage is perhaps the greatest lightweight carry-on bag on the market and one of the most popular carry-on bags on the list. This bag is large—21 inches—but not heavy. It has extra handles, four wheels, and a TSA lock, among other things. In addition, it is quite beautiful. The Delsey Paris Luggage has a few drawbacks, and even though it costs a little more than some other bags, it is still quite affordable.
3. Samsonite Freeform Carry-on Spinner
Dimensions: 21.25 x 15.25 x 10 inches
Weight: 6.5 pounds
Materials: Polypropylene
This baggage is shockingly inexpensive and represents the next generation of lightweight suitcases. The sleek exterior is made of polypropylene, which is the lightest material available for hard-side luggage, and its ridged pattern helps to deflect dings and scratches. There was a zippered pocket for delicates and another compartment for soiled clothes or shoes. Finally, the double-spinner wheels on the bag allow for easy movement at different speeds. Hence, get ready to book international flight tickets with Budgetairfare and take your Samsonite Freeform Carry-on Spinner for a spin.
4. AmazonBasics Softside Carry-On Spinner Luggage Suitcase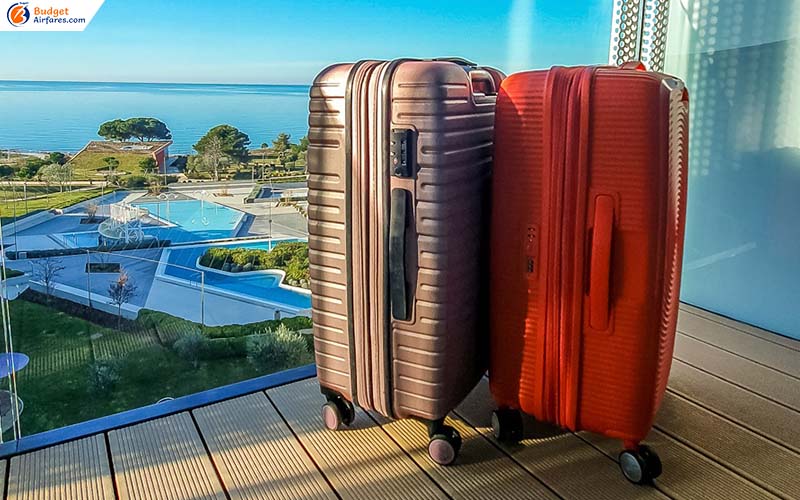 Overall Dimensions: 14.7 x 9 x 21 inches
Weight: 5.5 pounds
This incredibly economical ultralight carry-on luggage option is ideal for the infrequent traveler. This soft-side luggage promises to be more flexible than comparable hard-sided luggage, and it can also be compressed for usage in confined locations. The telescopic handle locks into position, making it simple to adjust the height to your preference, and the firmly installed handles make lifting it efficient. Additionally, the four 360-degree spinning wheels guarantee effortless gliding in every direction.
5. Lucas Ultra Lightweight Carry-On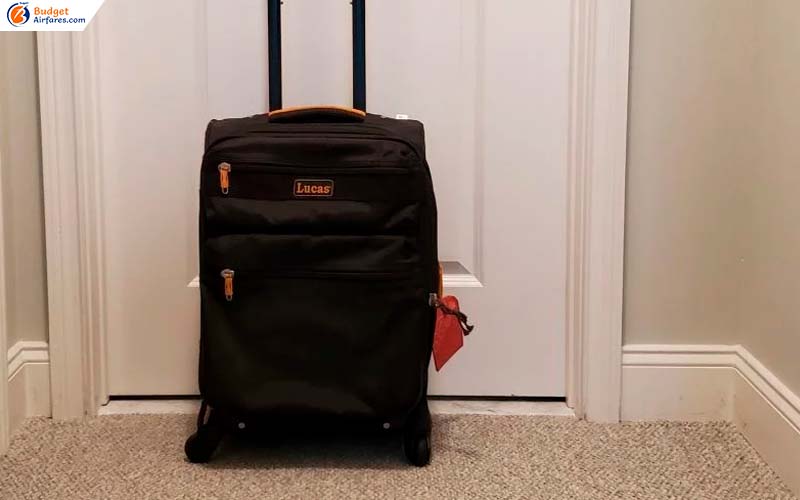 Overall Dimensions: 22.8 x 14 x 9 inches
Weight: 5.8 pounds
This luxurious carry-on bag is soft-sided, lightweight, and equally attractive and useful. The expandable design of this bag provides an additional 4 liters of capacity when needed, making it ideal for a long weekend away.
The polyester case is lightweight even when fully loaded. Both the exterior pockets and the completely lined interior have lots of compartments to keep your possessions organized while you're on the go. The external pockets are helpful for holding items you need quick access to. Your belongings will be kept in place by the elastic tie-down straps, ensuring that they are wrinkle-free when you arrive.
Also read: 7 Things You Should Never Pack In Your Checked Luggage
6. Cities Ultra Light ABS Hard Shell
One of the most affordable choices
5-year warranty, strong shell, lock
In any direction that four wheels spin
The Ultra Light ABS delivers the best of all worlds and maybe the greatest hand luggage option for regular flyers on a budget. This ultralight bag has a sturdy shell, a lock, and a reasonable size of 21 inches. It has the lowest price on the list and a 5-year warranty as well. There are essentially no drawbacks, making this a great deal. Also, are you planning on traveling overseas with your Cities Ultra Light ABS Hard Shell ultra-light carry-on bag? Then book cheap flight tickets from USA to India with Budgetairfare and grab some additional benefits.
7. Aerolite Maximum Allowance Airline
Weight: 5.3 pounds
Quick access to personal stuff is provided by two front zip pockets.
The Aerolite carry-on case provides travelers on a budget with a cheap option as one of the lightest soft side cases on the market. This case is made of 500 denier polyester fabric, which is water-resistant and simple to clean. Additionally,  it has a padded carry handle that makes lifting easier.
The 20-inch telescopic retractable handle offers a number of high stops to choose from for convenience. You may easily tip or roll the case close to you thanks to the 4 smooth spinner wheels. These lightweight carry-on bags are definitely worth their exceptionally low cost.
Final Thoughts
In conclusion, when looking for the finest ultralight carry-on bags under 5 pounds there are a variety of solutions that are both adaptable and useful for frequent travelers.  Whether you prioritize durability, storage space, or aesthetically pleasing design, these bags allow you to travel in comfort and enjoyment without sacrificing quality or flair. Additionally, if you are looking for cheap international flight tickets from canada, then visit flyopedia.ca to grab the finest flight deals.
Also read: Know Your Fundamental Rights Before Flying