India, a country that is known for its diverse natural heritage is home to 60% of its Asian elephants, 70% of the world's tigers, more than 1360 bird species, 600 reptiles, and 400 mammals, many of which are not seen anywhere else. Zoos are nothing compared to national parks and wildlife sanctuaries. Wildlife lovers adore national parks and wildlife sanctuaries because they do not enclose animals in cages and allow them to roam free. In truth, the majority of people who care about animals prefer sanctuaries, where animals are brought to life and are protected without giving up their freedom.
The national parks, which are solely managed by the government and forest authorities, are a safe haven for endangered species like one-horned rhinos, snow leopards, and lions. For tourists, a safari can be a fantastic way to observe each of these animals in their natural habitat. Additionally, you can book cheap flights from USA to India from BudgetAirfare to see these wild creatures in their natural habitat.
Therefore, this list of the 5 best national parks in India for wildlife lovers has been carefully chosen for any wildlife enthusiast who wants to see wild creatures in their native settings. In order to give you the best wildlife experience and fulfill your long-standing desire for adventure, we have made an effort to include the majority of India's well-known national parks on our list. So, if you are planning on traveling to India, then book international flight tickets to India and get ready to go on a wildlife adventure.
Best National Parks in India for Wildlife Enthusiasts
1.   Jim Corbett National Park, Uttarakhand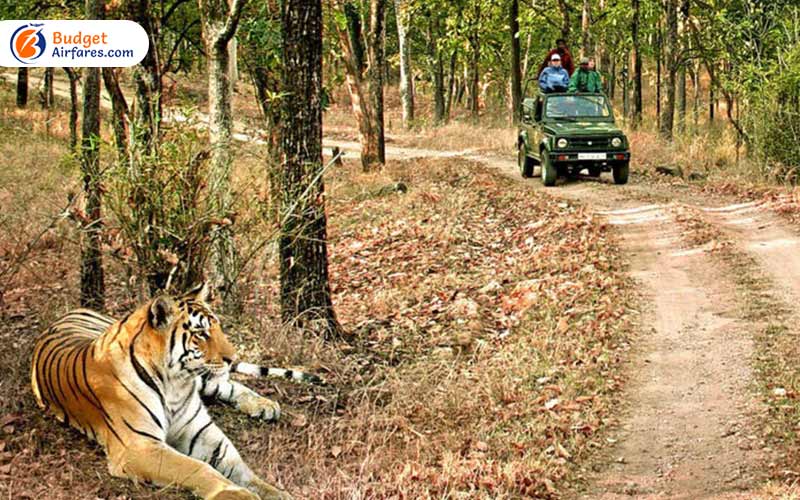 Located in Uttrakhand, Jim Corbett National Park is the oldest national park in India. It was created in 1936 to safeguard the Bengal Tiger, a species that is now critically endangered. It is a popular eco-tourism location with 488 different species of plants and a wide range of wildlife. It contributes significantly to Project Tiger, a program designed to preserve these majestic big animals.
Jim Corbett is also home to wild elephants and leopards in addition to tigers. It also boasts more than 600 different bird species and Himalayan black bears. The park is a well-liked location for those who enjoy the outdoors and wildlife because of its stunning scenery, which includes mountains, rivers, and deep woods. So, visit BudgetAirfare now to book the cheapest international flight tickets to India and witness the beauty of the oldest national park in India
2.   Ranthambore National Park, Rajasthan
The Ranthambore National Park, a former hunting location for the Maharajas of Rajasthan, is where Project Tiger was first started in 1973. Along with a big population of tigers, this area is also home to hundreds of other wild animals, including striped hyenas, jackals, and leopards. This park, which spans 392 square kilometers, provides a rare opportunity to see these magnificent animals in their native setting. The park's rocky landscapes, historic sites, and scenic lakes make for a wonderful setting for animal enthusiasts and photographers. The opportunity to see the grandeur of the Ranthambore Fort, which is located within the park, is the best aspect of seeing the Ranthambore National Park.
3.   Kaziranga National Park, Assam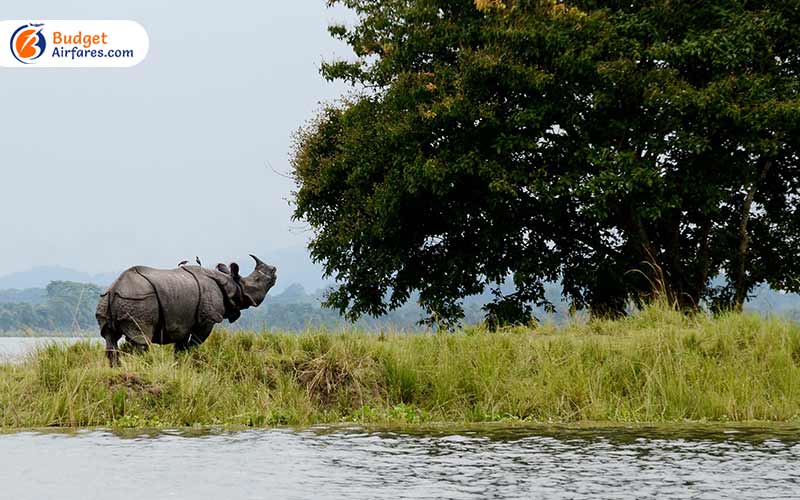 The Kaziranga National Park is a UNESCO World Heritage Site and a hub of biodiversity. It is tucked away in Assam, the Indian state in the northeast. The park is well known for having an endangered one-horned rhinoceros population, which may be seen grazing on the high meadows. A sizable population of Asian elephants, wild water buffalo, and Royal Bengal tigers can also be found in Kaziranga.
The park offers a breathtaking area for nature lovers to explore with its ponds, marshes, and dense woodlands. We can tell you that there will never be a dull moment while you are here, whether it be photographing the rare species or getting a bird's eye view of the entire park from the watchtower. Thus, buy international flight tickets from USA to India from BudgetAirfare and begin the adventure of your lifetime.
4.   Gir National Park, Gujarat
Gujarat's Gir National Park is a well-known wildlife sanctuary that takes pride in guarding the rare Asiatic Lions. The Gir National Park was a hunting ground for the Nawabs of Junagadh before being transformed into a wildlife sanctuary for the uninitiated in 1990. All nature lovers are in for a real treat because, according to estimates, the region is home to more than 2,000 species of wildlife. So, get an opportunity to experience Asiatic Lions in their natural habitat, see them in action, and get a chance to marvel at the breathtaking beauty of mother nature's bounty, which is visible from the varied flora and wildlife
5.   Sundarbans National Park, West Bengal
Sundarbans National Park is a rare habitat that straddles India and Bangladesh and is situated in the Sundarbans Delta in West Bengal. It is the world's largest mangrove forest and a UNESCO World Heritage Site that provides a crucial home for the critically endangered Bengal tiger. Visitors can see the magnificent tigers swimming in the estuarine waters while navigating the park's complex network of canals. Sundarbans is a haven for environment lovers and birdwatchers thanks to its saltwater crocodiles, spotted deer, and wide range of avian species. Thus, book cheap flight tickets from USA to Kolkata from BudgetAirfare and witness the magic of wildlife.
In India, national parks are important habitats for a wide variety of animals in addition to being jewels of the country's natural beauty. These outstanding locations are not just examples of India's rich natural heritage. But it's also a reminder of our duty to safeguard and maintain these priceless ecosystems for coming generations. So, book online flight tickets from USA to India and embark on the adventurous journey to discover the best national parks in India.
Also Read: 8 Gorgeous Swimming Holes Around The World To Take A Dip