What's a better way to cool off on a hot summer's day than diving into a breathtaking swimming hole? Summer is just around the corner which means the temperature begins to rise. And while everyone is planning trips to go beaches why not take a slightly more offbeat way to cool off this summer heat: swimming holes.
Taking a plunge into a splendid swimming hole is one of the world's greatest pleasures. These swimming holes have everything from exhilarating swims to stunning views and the best part is that many people usually don't know about them which means no crowd. So, book your international flight tickets with BudgetAirfares now and get ready to take a plunge into these stunning swimming holes around the world.
There are several astonishing swimming holes around the world. Some of these are quite popular, while others often go unnoticed. These swimming holes are surrounded by clear turquoise waters, picturesque scenery, and spontaneous mountain views that show you the raw beauty of nature. So, instead of going on another trip to the beach, book cheap international flight tickets from BudgetAirfares and have an adventure tracking down these beautiful nature-made pools.
Here's a compiled list of the 8 gorgeous swimming holes around the world that you'll be dying to take a plunge into this summer.
1.  Hierve el Agua, Oaxaca, Mexico
Hierve el Agua, Oaxaca in Mexico is so much more than just a popular travel site. It is a geological and natural wonder. Hierve in Spanish means to boil. Thus if you are planning on travelling to Mexico, you may be expecting to see a beautiful big boiling swimming hole. However, The Hierve el Agua genuinely has a frozen appearance as its waters tumble down the mountainside in shades of green, blue, and yellow. While the waterfalls are white, two mineral pools are perched on the cliff's edge and provide an amazing perspective of the surrounding, untamed terrain. Several people from around the globe travel to Mexico to beat the heat of the summer by taking a dip in Hierve el Agua.
2.  Havasu Falls, Supai, Arizona, USA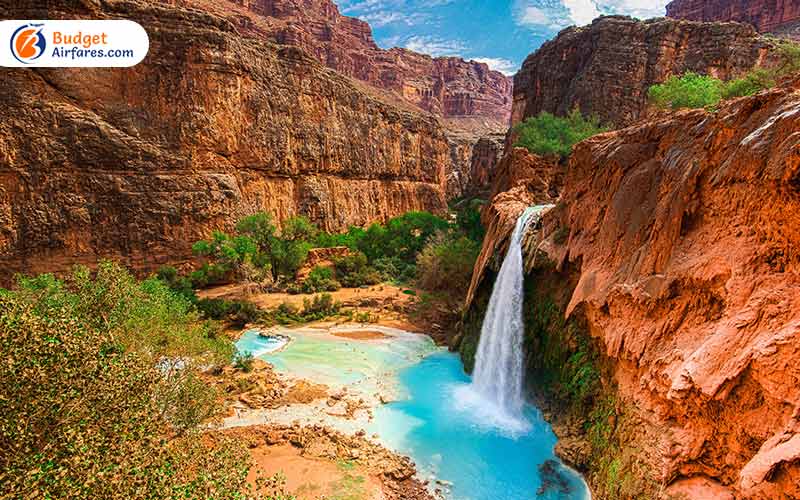 These magnificent pools, created by Havasu Falls, are a well-liked location for cliff jumping. Deep within the Grand Canyon, the crystalline blue waters are only accessible after an arduous and perilous walk.
You must make reservations through the Havasupai Reservation to visit, albeit they are becoming more and more difficult to come by due to the area's rising popularity. Book the cheapest international flights from USA to visit this amazing Havasu Falls.
3.  Giola Natural Pool, Thassos Island, Greece
Near the Astris settlement, there lies a stunning sea lagoon called the Giola. You may swim in the Aegean Sea next door or descend to the blue, crystal-clear waters below thanks to the island's steps-like rocks. In each case, get the chance to encounter a special aspect of nature either way. This seashore treasure is reputed to be quite a walk. However, those who enjoy adventure, hiking, and the outdoors will be rewarded with stunning views of the sea and the sun.
4.  Devil's Pool, Livingstone, Zambia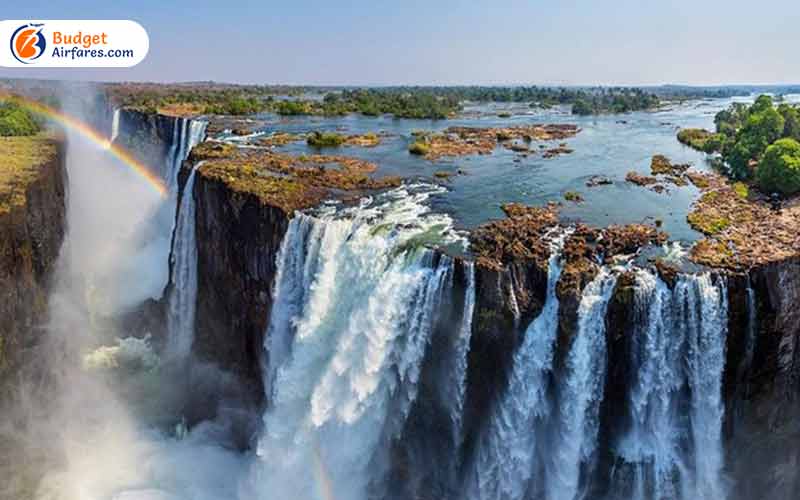 On the edge of Victoria Falls, one of the biggest waterfalls in the world is this dishevelled infinity pool. When the water level is lowest, which is from mid-August to mid-January, you can only swim in it.
Adventurers can leap into the pool after a hard hike there and swim up to the edge of the roaring falls, where a rock barrier has formed over many years. Additionally, browse BudgetAirfares to get your hands on the cheapest air flight tickets.
5.  Blue Lagoon, Grindavik, Iceland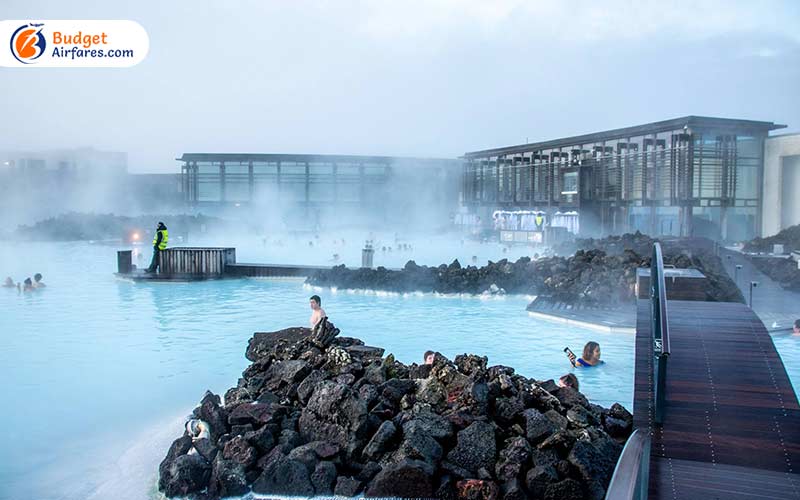 The famed Blue Lagoon in Iceland's Grindavik defies its moniker once more with its hot waters. The artificial Lagoon was built in the late 1970s and today contains 1.5 million gallons of seawater that is heated by geothermal energy from deep inside the Earth. The waters are reputed to have a "healing quality," and they are rich in minerals like silica and sulphur. Travellers can relax in the on-site sauna or steam room or splash around in the water.
6.  Figure 8 Pool, Sydney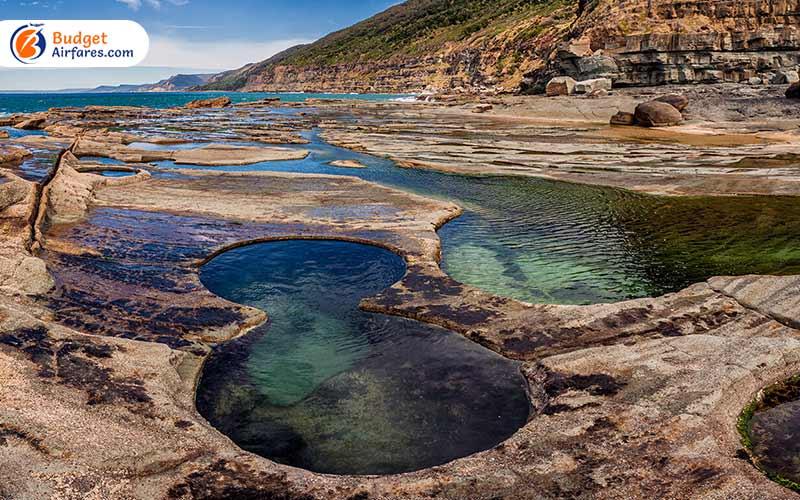 About an hour outside of Sydney, in Royal National Park, is the Figure 8 Pool, which is close to Burning Palms Beach. Around here, there are a lot of naturally occurring rock ponds, and one of them just so happens to be exactly formed like a figure eight. Reaching the swimming hole requires a three to four-hour, treacherous, rocky, and steep walk. According to NSW National Parks, travellers are advised to only go during low tide when the waves are minimal.
7.  Fairy Pools, Isle of Skye, Scotland
The Fairy Pools in Glen Brittle, on the Isle of Skye in Scotland, is a great site for "wild swimming," especially if the weather is nice if you're willing to endure the chilly (but crystal-clear) waters. Visitors can access the stunningly picturesque waterfalls and pools through a walk; some are more private than others. One of the travellers once remarked that the series of slanting and descending ponds was "beautiful, even in horrible weather."
8.  Enfield and Lucifer Falls, Ithaca, New York, United States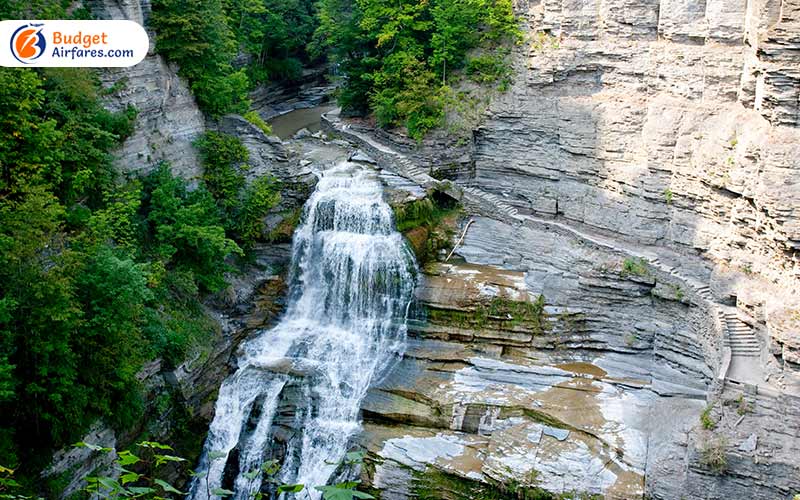 Consider travelling to upstate New York to escape the oppressive city heat. You may visit Robert H. Treman Park and all of its waterfalls just outside of Ithaca. The 115-foot Lucifer Waterfall may be the primary draw, but the Enfield (or Lower) Falls, which are less well known, are also stunning. Before jumping in at the base of Enfield Falls, take a stroll around the area and park to see a total of roughly a dozen waterfalls. Grab last minute flight deals from BudgetAirfares to visit Enfield and Lucifer Falls.
Therefore, these were the 8 gorgeous swimming holes around the world to take a dip. Visit BudgetAirfares to grab cheap flight deals and get on an adventure of tracking down these breathtaking swimming holes.
Also read: Top 5 Incredible Destinations In India To Detoxify Your Spirit & Heal Your Soul