Chetan Bhagat, the most well-known author in India, is the writer of a series of novels that have achieved great success both critically and commercially. He is considered a young icon rather than just a novelist or writer. In addition, Chetan writes a popular newspaper column for several esteemed publications. Chetan Bhagat is not only a well-known novelist but also a motivational speaker who has given several speeches at various colleges and universities.
The New York Times (US) published a piece about him in 2008 with the headline "An Investment Banker Finds Fame Off The Books." It is true that since their publication, his works have continued to be bestsellers. Several of Chetan's writings have been adapted into popular Bollywood feature films. He has always been a "celebrity author" and has been in the public eye. He routinely posts his political and social views on social media.
Let's learn more about the family, early years, career, and accomplishments of Chetan Bhagat: India's Leading Bestselling Author in English-Language. Also, make sure to check out BudgetAirfares for cheap international flights from US to India.
Chetan Bhagat – Family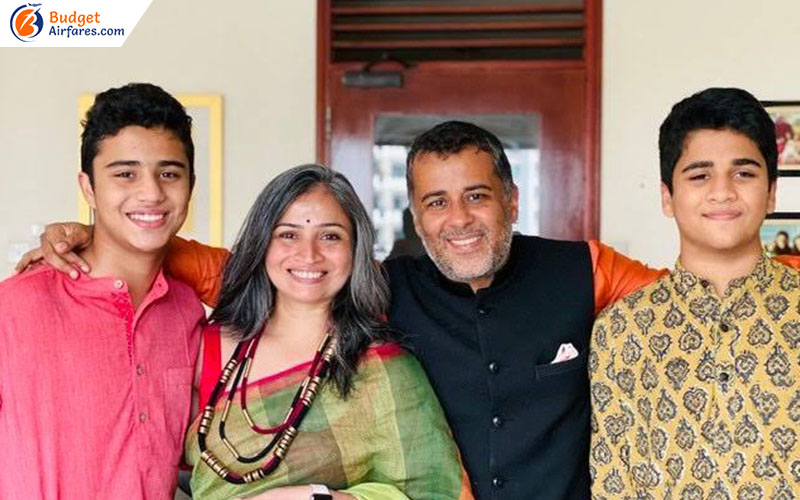 Chetan Bhagat was born to a middle-class Punjabi family in New Delhi on April 22, 1974. While his father fought in the Indian Army, his mother worked for the government in the agriculture industry. His younger brother Ketan Bhagat is a well-known novelist and anchor.
Chetan married Anusha Suryanarayanan, his true love, in 1998. He met her at IIM when they were both in college. His real-life love story served as the inspiration for one of his novels, "2 States". The couple's boys are identical twins with the names Shyam and Ishaan Bhagat.
Chetan Bhagat's Childhood
Chetan spent most of his education in Delhi and was raised in Naraina Vihar, West Delhi. He attended neighborhood Delhi schools before enrolling at the "Army Public School" in Dhaula Kuan. He was an excellent student who performed well in the classroom. His passion for writing originally began to grow during his time in high school. He enjoyed writing jokes for the school literary magazine since it allowed him to be recognized as a writer. He felt motivated to write more in the following years.
After completing high school, Chetan enrolled at the Indian Institute of Technology (IIT) in Delhi. He graduated from the institution in 1995 with a BTech in mechanical engineering. He enrolled in the Indian Institute of Management (IIM) in Ahmedabad to pursue his MBA. During this period, he started to write more and made the decision to become a full-time writer. However, Chetan and his family relocated to Hong Kong once he was hired by IIM.
Furthermore, visit BudgetAirfares to book affordable direct flight tickets from US to Ahmedabad.
Chetan Bhagat's Books
Early in the 2000s, while working for the bank "Goldman Sachs" in Hong Kong, Chetan Bhagat started writing his first book, "Five Point Someone." He spent many years writing and revising the first draught to make his debut book far superior. He claimed in one interview to have written the work in roughly 15 draughts and to have delivered the finished manuscript to numerous publishers. Most of them rejected his novel. The manuscript was eventually approved by the Old Delhi publishing business Rupa & Co.
He published his debut novel, "Five Point Someone," in 2004, and it catapulted him to the top of fame and praise. This book described the experiences of three IIT students who believed their academic performance to be below that of the other IIT students. This story was adapted into a film by Rajkumar Hirani, starring Aamir Khan, Madhavan, Sharman Joshi, and Kareena Kapoor, four renowned Indian actors. The 2009 film "3 Idiots" immediately became the most popular Hindi movie of all time.
Following the enormous success of his debut book, he began writing "One Night At A Call Centre," his second book, which was released in 2005. The book went on to achieve further success. In the first three days after release, a little over 50,000 copies were sold. This was the book that in India at its time sold the most copies. He authored the screenplay for the book's adaptation into the motion picture Hello.
After gaining enough confidence in his abilities, Chetan decided to pursue writing as a full-time career. The third book by Bhagat, "The 3 Mistakes of My Life," which was published in 2008, was likewise a big hit. With the popularity of this book, Chetan rose to the top among India's English-language authors. The novel on which the Bollywood song "Kai Po Che" is based.
Chetan Bhagat's fourth book, "2 States," which was published in 2009, was partly influenced by his own true love story about how he fell in love with a South Indian girl and the challenges he had in his personal life. The book was adapted into the blockbuster film "2 States," starring Arjun Kapoor and Alia Bhatt.
Chetan's later works, such as "Revolution 2020," "Half Girlfriend," and "One Indian Girl," garnered a great deal of positive critical and commercial reception. The general public, however, was very critical of him because they thought he was focusing too much on "formulaic" stories and was running out of original ones.
The zeal and enthusiasm of his readers for him had drastically lessened. Despite this, his 2018 novel "The Girl in Room 105" was a huge success. His new book "400 Days" was just published in October 2021.
Chetan Bhagat's Achievements
Chetan Bhagat was named "The Best Outgoing Student" by IIM Ahmadabad in 1997.
Chetan was awarded the Society Young Achiever's Award in 2000.
He was given the Publisher's Recognition Award in 2005.
His name was on Time Magazine's 2010 list of the "World's 100 Most Influential People."
He won the 2014 Filmfare Award for Best Screenplay for his work on the Bollywood film "Kai Po Che."
Chetan won a CNN-IBN Award in the category of entertainment in 2014.
The majority of his books have been adapted into well-liked Bollywood films and are best sellers. – The 3 Mistakes of My Life, Hello! (2008) – The 2005 film 3 Idiots, One Night At A Call Centre – Kai Po Che, author of the 2009 book 2 States, also known as Five Point Someone.
Wrapping Up
Chetan Bhagat is India's top-selling author in the English-language publishing industry. His works have resonated with readers not just in India but all across the world. As you explore the world through literature, don't forget to also explore the world through travel. If you're looking for affordable international flights from the US to Goa, make sure to check out BudgetAirfares.
Also Read: A Beginner's Guide To Exploring Indian Food