Mosques have been the primary locations for religious and cultural instruction in Islam from the beginning of time. There are a number of magnificent mosques around the world that defy description due to their breathtaking architecture and mind-blowing aesthetics. Book international flight tickets online with BudgetAirfare and explore these stunning mosques in the world
Mosques are magnificent pieces of architecture that are much more than just sacred sites for prayer. The most stunning mosques in the world are beautiful buildings with equally stunning histories and heritage. They draw travelers from all over the world who are as astounded by their beauty as they are by the skill and perfection of the architecture. Muslims congregate in mosques, also known as masjids, to perform Salat or daily prayers. Its literal meaning is "a place of ceremonial prostration." For ages, mosques have served as a symbol of the religion of millions of Muslims.
Therefore, learn about the finest mosques in various nations throughout the world that will astound you with their beauty. These 10 breathtaking mosques from around the globe will leave you speechless. Therefore, sit back and enjoy more than ten of the most stunning mosques from around the globe. Additionally, you can book the cheapest air flight tickets from BudgetAirfare because we're confident that a few of these will surely end up on your trip wish list!
7 Most Stunning Mosques In The World
1. Al-Haram Mosque, Saudi Arabia
Al-Haram mosque is one of the most well-known sites of prayer in the world. Millions of Muslims travel to the mosque every year to perform the Hajj and Umrah ceremonies, and the Quran refers to it as the first building ever constructed for the worship of Allah. Al Haram is one of the largest and oldest mosques in the world, with a total size of 400,800 square meters. Mecca's mosque features both indoor and outdoor prayer spaces large enough to accommodate up to 2 million attendees. During the yearly Hajj pilgrimage to Mecca, the mosque that surrounds one of the holiest sites, The Kaaba, draws the largest throng in the entire world.
2. Hassan II Mosque, Morocco
Hassan II Mosque was finished in 1993 and resembles a massive lighthouse in front of the Atlantic Ocean.  It ranks as the seventh-biggest mosque in the world and the largest in Morocco. The mosque is breathtakingly beautiful, with hand-carved marble walls, a retractable roof, and a 60-foot-tall tower with a laser light that is always directed in the general direction of Mecca. There is space here for 1,05,000 people to assemble, with 25,000 gathered in the mosque's prayer room and 80,000 more outside on the mosque's grounds. So, book international flight tickets online with BudgetAirfare and start your spiritual journey.
3. Sheikh Zayed Grand Mosque in Abu Dhabi, UAE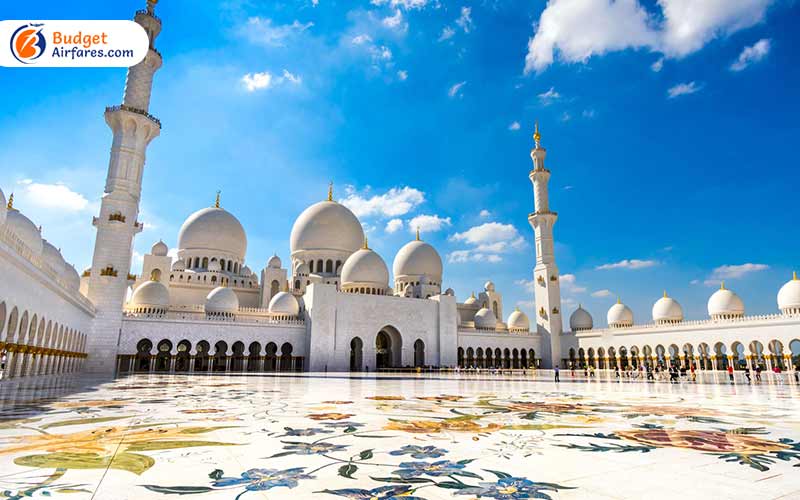 Sheikh Zayed Grand Mosque is one of the most stunning mosques in the world, including 82 shining white domes, magnificent hand-knotted carpets, and several chandeliers coated in Swarovski crystals. With a capacity for more than 40,000 worshippers at once, the mosque is an architectural marvel. Additionally, a pool there reflects the mosque's columns and appears lovely at night. The mosque contains 1096 columns that are covered in jasper and amethyst inlays. In addition, it is home to the biggest hand-woven carpet ever, a valued possession of the Guinness Book of World Records.
4. Hagia Sophia Mosque in Istanbul, Turkey
For many Muslims, the Hagia Sophia mosque is a must-see location because of its exceptional beauty and enormous historical significance. This holy site is a surviving specimen of Byzantine architecture and is amongst the most stunning mosques in the entire globe.  Originally constructed as a Christian church, it was changed into a mosque during the Ottoman era (1453–1935). The structure also depicts the previous religious changes the mosque underwent. While the stunning mosaics describe the illustrious history of the Christians, it also includes long minarets and Arabic inscriptions linked to Muslim culture.
5. Blue Mosque, Istanbul, Turkey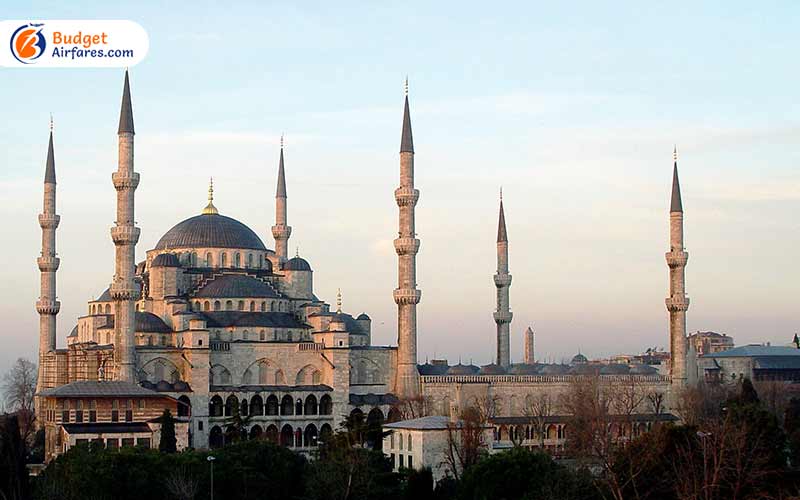 The Blue Mosque, which contributes significantly to Istanbul's skyline and has six needle-like minarets, is a must-see for anybody traveling to the magnificent city. Between 1609 and 1616, under Ahmed, I's time as Ottoman Sultan, it was constructed in a sequence of domes and half-domes. The ceiling sparkles with 20,000 blue Iznik tiles decorated with flowers, trees, and abstract patterns, in addition to the exquisitely placed cascade of domes cascading down from the big central dome. Additionally, you can buy the cheapest air flight tickets from BudgetAirfare to have an unforgettable travel experience.
6. Crystal Mosque in Kuala Terengganu, Malaysia
With its all-steel and all-glass construction, Malaysia's Crystal Mosque stands out from most conventional mosques throughout the world with a more contemporary and slick appearance.  When the mosque's prayer halls and conference rooms are illuminated from the inside, the mosque's glass domes appear to be composed of pure gold. The Crystal Mosque's architecture and design also incorporate a few Chinese-inspired elements.
7. Saint Petersburg Mosque, Russia
The Great Mosque of St. Petersburg, which was built between 1909 and 1920, is the largest mosque in Russia's European region. While the mosque's two minarets and gorgeous blue mosaic ceramic entrances are wrapped in mesmerizing geometric designs, the outside walls are adorned with Quranic verses.
FAQs
What is the total capacity of Jama Masjid, New Delhi?
The holy site of worship, Jama Masjid has a total capacity of allowing 25,000 worshippers. Additionally, you can book cheap international flights from USA to India to explore the holy site of Jama Masjid, New Delhi.
What are the recommended clothes for visiting Masjid al-Haram?
For visiting this holy mosque, it is usually suggested to men to wear men wear long pants and women should prefer to dress up in a loose-fitted black or white Abaya.
How many workers have built Jama Masjid?
Around 5000 workers were involved in building Jama Masjid. So, what are you still waiting for? Book international flight tickets online from USA to India and discover the breathtaking beauty of this pilgrimage site.