Both education and travel are crucial aspects of our life. Traveling should always be adventurous because stepping outside your comfort zone shouldn't get boring. This is the ultimate phenomenon if explorers are serious about discovering anything. Discovering new places has always been the guiding idea of these seekers. If you truly want to learn anything new when traveling, we can attest that being like this is necessary. Therefore, in this blog, we are going to help you discover a town that is no less than a nature's paradise.
Mannavanur is a charming hidden nest in the untamed wilderness of nature, nestled deep within the heart of the unspoiled wilderness. Mannavanur draws those looking for an escape from the chaos of contemporary life because it is a place where the soul can soar freely amid the beauty of untouched landscapes. So, get ready to book international flight tickets from USA to India with BudgetAirfares, and come along with us as we explore Mannavanur: A hidden nest amidst the untouched wilderness of nature.
A Brief Overview of Mannavanur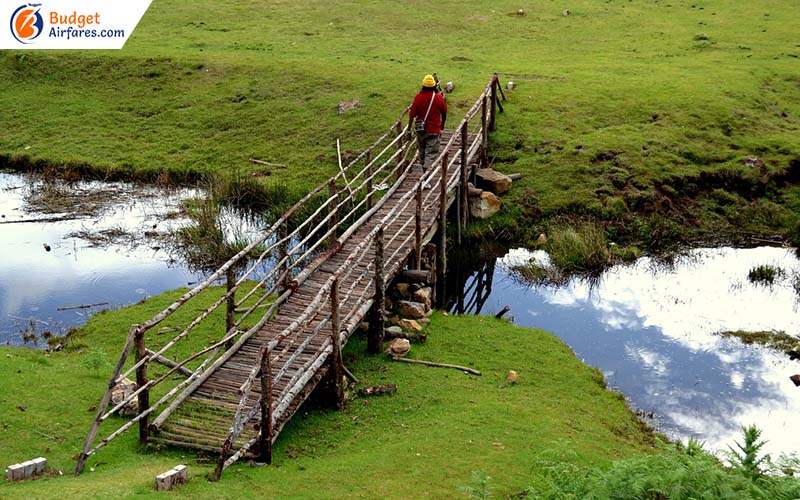 There is a small town called Mannavanur that thrives at providing tourists with ecstasy. It is also a magical aspect of South India's natural beauty. Deep within the Palani Hills of Tamilnadu's Dindigul district is a tiny village by the name of Mannavanur. Most visitors to Kodaikanal experience the hectic pace of that hill station, but they are unaware of the locations that are incredibly lovely in comparison to the hill station itself. One of them is Mannavanur.
The Kodaikanal forest range is renowned for its biodiversity since it serves as the hub of several resources for flora and wildlife. There is no way to get to Mannavanur because of the daily snarl-up of vehicles and people walking on or near the road. It seems as though you are lost in a fantastical universe where there are few people and lots of beautiful natural scenery. Imagine yourself traveling alone down a winding path that leads to the source of the enchantment you have just encountered. You'll go insane surrounded by enormous Eucalyptus trees and a mile-long expanse of pitch-black wilderness. There are many more towns scattered throughout the hills, like a vividly colored nest on a tree.
It is the last village, hidden deep within a valley. If you look at Mannavanur's woodland checkpoint from a distance, you can only imagine how magnificent it will be up close. It is a haven of greenery, with lush sheets of nature wonderfully dotting every terrain. The village only has a few houses, yet there are many opportunities for interaction. Thus, visit BudgetAirfares, the best online travel website, and book online flight tickets from US to Chennai today!
Mannavanur Lake
Mannavanur Lake is the village's main attraction. You can see this wonderful lake as you get closer to the village. It is worthwhile to take a photo of the lake in the middle of the alluring meadows and the gorgeous hills in the distance. The drive to the lake is equally lovely, with eucalyptus and pine trees lining the road on both sides. As you travel past these trees, Mannavanur welcomes you with its lovely foliage and varied flora and wildlife.
This area has a diverse avian population. There are numerous birds flying about freely. Additionally, it is reported that a few wild animals can occasionally be seen here. Since Mannavanur Lake is located within a sheep pasture, you can see herds of grazing sheep close by. There are also benches in the area where you may admire this magnificent picture.
You can go boating, see the colorful birds nearby, take pictures along the lake's edge, or just sit and watch a sunset or dawn while briefly reflecting on your own continuous existence. Despite being a well-liked tourist attraction, it is well-maintained since so many people are aware of its importance.
Other Things to Do
There is a park right in the midst of the community where you can relax in a serene setting like never before. Aside from this, the entire hamlet invites you to experience nature up close. Since there are no limitations on obtaining such joy, you are free to travel to any location for peace of mind. Traveling to Kavunji and Kukkam from the Sheep Center seems like quite the adventure; there are also tunnels. However, before beginning this expedition, approval from the forest department is required. Additionally, there are campsites for different purposes such as family-friendly educational outings.
If you are generally interested in such activities, you could also visit the sheep research center. The most intriguing activity is connecting with locals and local locations because locals are also cool and peaceful and you may sample local delicacies at very reasonable prices there. Even though there are just a few places to stay, including one hotel and a few homestays, there are still plenty of travelers in the area. If you are planning a trip to Canada checkout tripbeam.ca for offers on flight tickets.
If you want opulent accommodations, the Camper's Club is available. You should exercise caution if you intend to purchase a magic mushroom in this village because of the increased traffic of stoners seeking to purchase fresh mushrooms. Moreover, you can browse through BudgetAirfares to book cheap flight tickets from US to Chennai.
How to Reach Mannavanur
By Air: The closest airport to Mannavanur is Madurai, which is 150 kilometers away from this region. The site is well-connected to the nation's major cities, including Bangalore, Chennai, and Mumbai. Another choice is Trichy, which is 230 kilometers away.
By Train: The closest railroad station is Kodai Road Railway, which is located about 110 kilometers away. As you can see, timing and connectivity complement each other effectively.
By Road: Due to the proximity of larger towns, the community enjoys easy access to roads. To get here, you can either take a cab or a government bus.
Therefore, this is Mannavanur, where time slows down, the natural world's rhythms set the tempo of life and the human spirit finds solace in Mother Nature's arms. Furthermore, if you do finally decide to take a trip to this hidden nest, make sure to browse through BudgetAirfares to grab cheap international flights from US to India.
Also Read: Top 5 Reasons Why You Should Visit India At Least Once In Your Lifetime