Sikkim is a wonderland with captivating views of the majestic Himalayas and is tucked away in the North-East of India. You certainly are missing out on something very wonderful if you haven't considered discovering the grandeur of this magnificent state. The mesmerizing beauty of Sikkim's colorful culture, as well as its beguiling meadows, snow-capped and sky-piercing Himalayas, and other natural treasures, make it a miniature wonderland.
Sikkim is a serene, uncomplicated, and extraordinarily beautiful place. Kanchenjunga, the tallest mountain in India, is located there. For tourists, the breathtaking meadows, majestic hills, glaciers, and variety of flora and animals never get old. Sikkim has unmatched beauty and charm from every angle. Additionally, book cheap flights from USA to India to experience the epitome beauty of Sikkim.
Sikkim is easily accessible from any location in India by air, by purchasing train tickets, or by taking the road. Even though Sikkim shares a land border with other sister states in the North East, its enhanced connectivity to the rest of the nation has been successful in luring a large number of tourists each year. Therefore, you can easily book international flight tickets online to India through BudgetAirfare and explore the mesmerizing beauty of Sikkim.
Now, take a look at the list of the top 7 Sikkim tourist attractions below to help organize your trip effectively.
Top 7 Sikkim Tourist Attractions to Visit in Summer 2023
Here is a comprehensive list of the top 7 tourist places to visit in Sikkim for your trip. Read further to have a holiday experience like no other.
Gangtok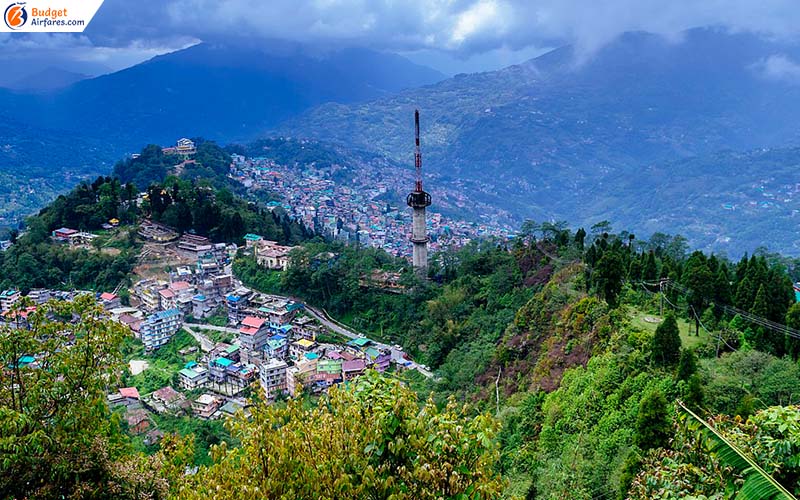 Sikkim's main city, Gangtok, is a stunning place that justifies its status as the capital city in the region. The city is full of incredible beauty, vivacity, and cloud garlands. You must fly into Gangtok before visiting Sikkim in order to see the impressive Mt. Kanchenjunga up close. If you go to Gangtok during the months of March and Mid-May, the air is scented with rhododendrons. This city is the perfect combination of tradition, the environment, and modernity.
Best Time to Visit: Book the cheapest flights from USA to India to visit Gangtok at its best time i.e. March to June and September to October
Tsomgo Lake
Tsomgo Lake is located about 40 kilometers from the capital city, Gangtok. This stunning glacier lake is one of Sikkim's most popular tourist attractions. The literal meaning of the name Tsogmo is "Source of Water." This stunning lake, one of the highest-altitude lakes in India, adds to the beauty of Sikkim. Your trip to Sikkim will be made even more memorable by the expansive views of the neighboring snow-covered mountains that Tsomgo Lake reflects. Additional plants and animals that can be found here are primulas, yellow and blue poppies, Irish, Yaks, and Ponies, as well as Brahmini ducks, which are migratory.
Best Timne to Visit: Gooing for snow – January to March; For Orchids – October to December; for Rhododendrons – April to May.
Nathula Pass
Nathula Pass is around 53 kilometers away from the big city of Gangtok. This region is not only a popular destination for the state of Sikkim, but it is also very important for political reasons.  The Nathula Pass, which links India and Tibet, has caused the local cultures of the two countries to converge. You and your companions can acquire a sovereign from Sherathang, a well-known border trading hub. In this packed bazaar, you may even find Tibetan goods. A visit to Kupup, which is close to Nathula Pass and perpetually clouded, might be a memorable experience for your trip to Sikkim.
Best Time to Visit: Book online flight tickets from USA to India to visit Nathula Pass at its best time i.e. May to October
Yuksom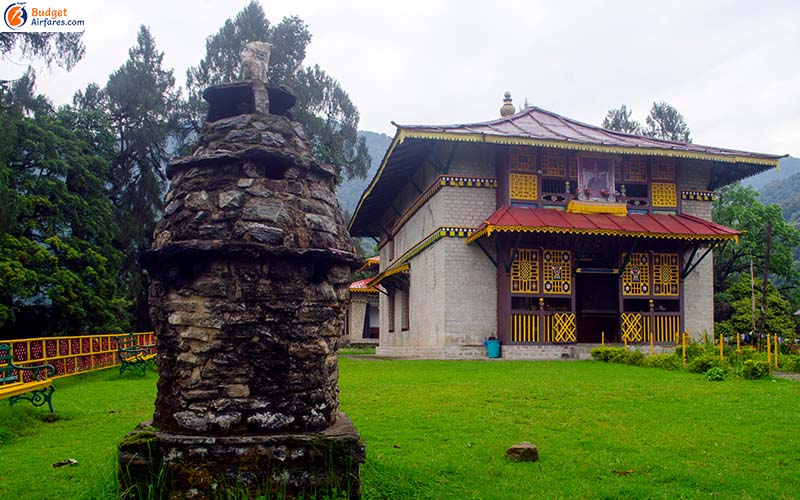 Yuksom, in Western Sikkim, is the starting point for a number of captivating hikes into the Himalayas or the alluring Kanchenjunga. This hamlet, which was previously Sikkim's capital, is better recognized for its pristine beauty and rural allure. This Sikkimese town, also known as the "Meeting Place of Three Lamas," only recently started drawing travelers.  This picturesque village, which is home to Sikkim's oldest monastery, is one of the most tranquil and quiet spots to visit in the entire state.
Best Time to Visit: March to June and September to November
Ravangla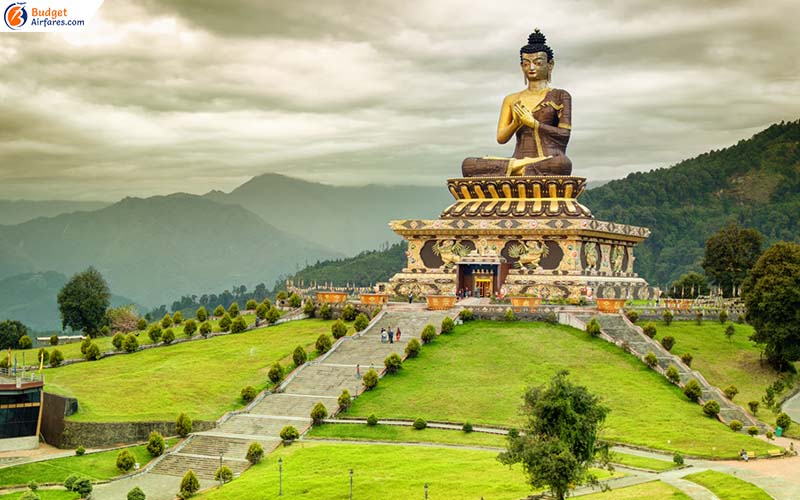 Ravangla tucked away between the Maenam and Tendong Hills, is one of Sikkim's main tourist spots, especially in the state's southern region. There is a charming hill village that serves as the starting point for some of Sikkim's most well-known treks between Gangtok and Pelling. It is more commonly known as a paradise for bird enthusiasts and may contain the habitat of some of the rarest and most endangered birds in the world. You can see dark-throated thrush, verditre flycatchers, blue whistling thrush, babblers, cuckoos, and many more birds on a typical trip to Ravangla.
Best Time to Visit: Buy flight tickets to India from USA to visit Ravangla at its best time i.e. March to June
Lachen, Lachung and Yumthang Valley
Lachen is a popular tourist destination in North Sikkim and is thought to serve as a winter home for nomadic Tibetan tribes. Lachung is a village that is home to both Bhutia and Tibetan people and is situated in northern Sikkim at a high altitude. Yumthang is a valley surrounded by snow-capped mountains that is breathtakingly gorgeous. One must schedule one or two days in northern Sikkim to visit all three of these tourist attractions.
Best Time to Visit: For snowfall; December to January, For Plaesent Weather; March to June
Pelling
Pelling is the second most popular tourist attraction in Sikkim after Gangtok. It draws hundreds of tourists who want to experience vast vistas and find calm in the lap of nature. The town is a haven for peace lovers and hikers alike. The distances between Pelling and two other well-known Sikkim locations, Gangtok and Darjeeling, are just 131 and 73 km, respectively.
Best Time to Visit: Book international flight tickets online to India to visit Pelling at its best time i.e. February to May and September to December
Thus, these are the most popular tourist places to visit in Sikkim. If you are planning to take a trip to the northeastern part of India, then you must visit these 7 Mesmerizing Places to Visit in Sikkim. Also, if you are looking for the best flight deals, then visit BudgetAirfare to get your hands on the cheapest international flight tickets from USA to India.