Budget Airlines have increasingly become well-liked in recent years. Travelers now have access to surprisingly low-cost airfare for flights all across the world. But before you press the "buy now" button, think about whether it is the cheapest option.
Budget airlines frequently employ strategies to covertly raise ticket costs. For instance, booking cheap flight tickets from USA to India. The fine print frequently conceals the extra fees and deceptive price traps. As a result, there is a large discrepancy between the rates you see and the price you pay for your trip. So, let's first examine the top budget airlines with the most hidden fees and the potential "extra" costs that could drive up the price of your flight tickets.
What Precisely is Budget Airlines?
Budget airlines, often known as low-cost airlines and no-frills carriers, provide airline tickets for a lot less than established carriers. There is no business class, and the seats in the lower class have very little room for the legs. Their main goal is to maintain affordable ticket costs.
Low-Cost Carriers pare down flights to their bare essentials and upsell several extras, including meals, assigned seats, in-flight entertainment, and other passenger amenities. As a result, the cost of in-flight meals, onboard refreshments, seat reservations, printing boarding cards, checking luggage, credit card fees, etc. must all be covered by the passenger. Additionally, the no-frills airlines cut expenses in ways that are less evident to the passengers. Now to get an idea of the hidden cost, let's check out the top budget airlines with the most hidden fees.
Hidden Costs of Budget Airlines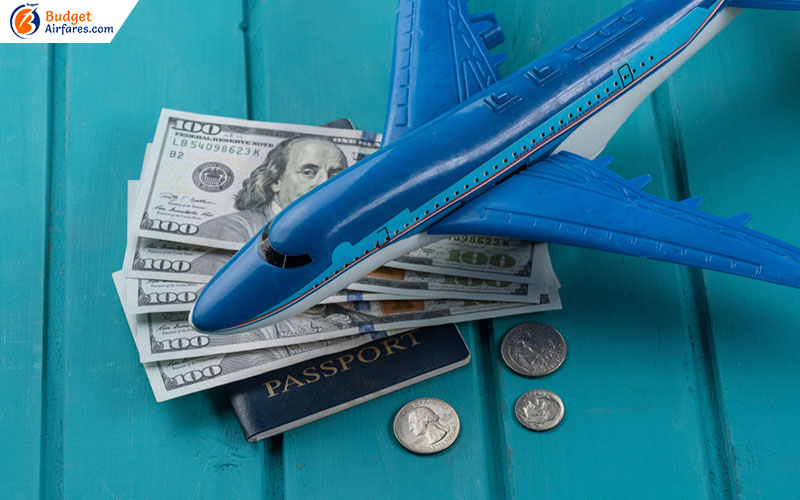 Popular low-cost airline Ryanair topped the list of most expensive costs, with tickets costing up to $270. For instance, Ryanair charges for any bag larger than the free allowance of a small personal bag that fits beneath the seat in front of them.
As per the analysis, Vueling of Spain had the second-highest hidden surcharges after Ryanair, with up to $262 in extra fees. Wizz Air, located in Hungary, came in third with up to $241 in additional fees, followed by easyJet, based in the United Kingdom, with up to $227.
Additionally, according to a TradingPedia survey, Major airline British Airways does not charge for carry-on luggage or advanced seat selection, but it does charge some ticket holders for a checked bag or a preferred seat, bringing the total extra expenses to $87. The British airline Jet2 had the least expensive hidden costs, which could reach only $82.
While many American airlines no longer charge change fees, they frequently do so for extras like checked bags and sporadically even carry-on luggage. For instance, if you are booking cheap flight tickets from USA to Amritsar be careful. According to NerdWallet, Frontier Airlines, and Spirit Airlines are the American airlines with the highest expenses.
Delta Air Lines is the next airline on the list of those with the highest hidden costs. As a result of its excellent customer service, low rate of delays and cancellations, and overall flying experience, Delta consistently rates as the top airline in the United States. However, the airline does charge certain unexpected surcharges. You will be charged $30 to check a bag, and choosing a seat might run you about $15.
Last but not least, United Airlines charges relatively substantial fees to passengers. While your personal item and carry-on bag are free, there are usually $5 to $10 in seat selection fees and a $30 bag check fee. So, book your international flight tickets from US to Bangalore carefully.
Additionally, along with American Airlines and Delta Air Lines, United Airlines, passengers can often avoid paying for checked bags by achieving loyalty status with the company or obtaining an airline-branded credit card.
The U.S. Department of Transportation (DOT) has put forth a regulation that would force airlines and others "to show the full price of a plane ticket up front, including baggage and other fees," according to the White House. The Biden administration is trying to end hidden surcharges.
To Sum Up
In conclusion, it's crucial for travelers to be aware of the hidden fees that low-cost airlines may charge, as these fees have a significant impact on the overall cost of a trip. Budget airlines may offer appealing base tickets, but it's important to take into account the extra costs that can mount up rapidly. Therefore, travelers should carefully review the terms and conditions as doing so will help them make better decisions and prevent any unpleasant surprises while using Budget flights. Additionally, you can visit Tripbeam to book cheap international flights from US to India.
Also Read: Experience God's Own Country: The Ultimate Guide To Explore Kerala